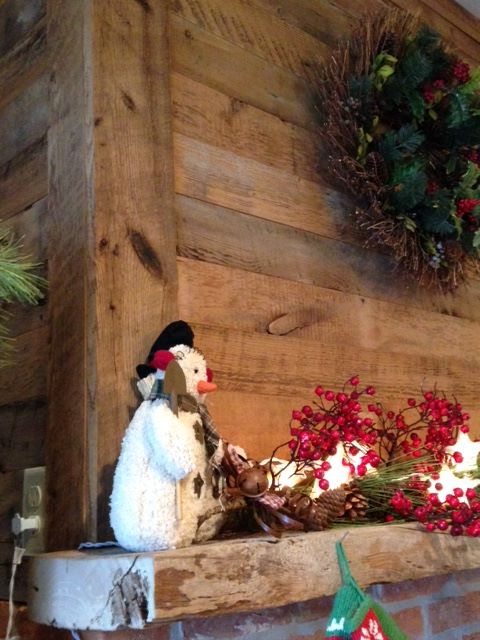 Help Us Spread The Message of Christmas!
November 14, 2017
Welcome back to the Sylvan Brandt blog! We're so grateful that you tune in and stay up to date with what's going on around our shop. I only have a few items to cover this week, but it's good that you stopped by because you don't want to miss them!
Christmas Is Only 41 Days Away!
Can you believe that?! I don't know how, but this holiday season always seems to sneak up on me. Regardless, it's one of our favorite times of the year around the Sylvan Brandt family. In just one week we'll be gathering around the table with our family to recount the many blessings that God has given to us this year … and to overeat. Both are good 😉 And then before you know it, Christmas trees will be up, stockings will be hung, and the Christmas music will begin to play (unless you've already started!).
Well, as I mentioned, we love the Christmas season and celebrating the birth of our Savior, Jesus Christ. No matter what your situation is, we hope that you'll be able to slow down and remember that we give because He gave. We are firm believers that through this love story in which God sent His only Son to Earth for our sake, we have the privilege of experiencing the ultimate peace and joy that a relationship with Jesus offers us. So…let's tell others about it! To help spread this beautiful message, we are pleased to again be selling beautiful lawn decor that are made by a local craftsman. Below you will see pictures with a price of the items that we have for sale. Check them out!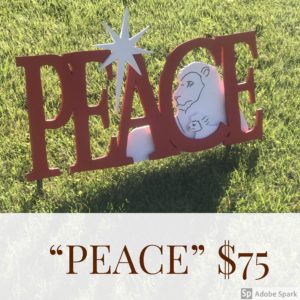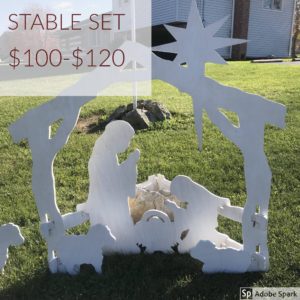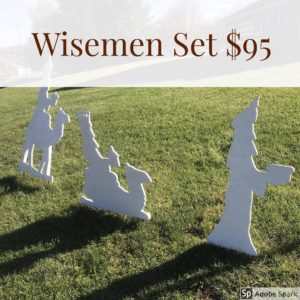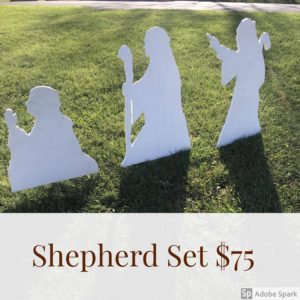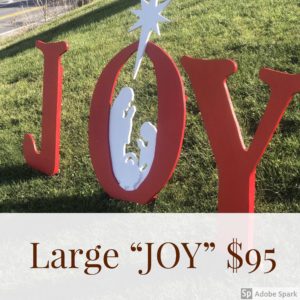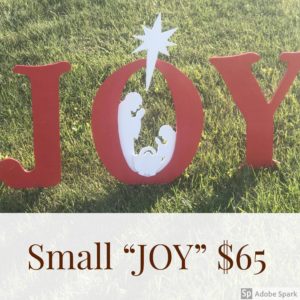 The most exciting part about purchasing these yard signs from Sylvan Brandt is that all of the proceeds will go directly to our non-profit, the Jack Reich Memorial Fund, which provides scholarships to two church camps. Camp Conquest in Denver,PA and River Of Life in Irasburg, VT, both of which we have served alongside for many years and highly value their programs.
Check Out Our Most Recent Build!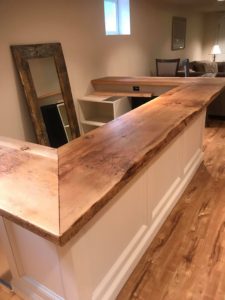 Please pardon the poor image quality, but it was really hard to get a good picture of this massive bar top. It measures 18″ wide and is 3′ x 10′ x 6′, made from Reclaimed White Pine Barn Floor Planks. The customer went back and forth about whether or not to buy the material and build it themselves or to have us complete the whole piece and ultimately decided that they trusted us more with making a beautiful product. If you can't tell from the picture, the bar is located in the customers basement and it was thought to be able to be brought down the steps, but after a couple attempts it was clear that it would not fit :/ Luckily they had perfectly sized windows in the basement that we were able to maneuver it through, with only a few minor dings. In the end, they were SUPER happy and I'd say it looks pretty amazing! What do you think?
We have the ability to build you tables, countertops, and other simple builds and would love to chat with you about your dream product! Visit us in person or start the conversation via email at info@sylvanbrandt.com. We look forward to working with you!
-Dates To Remember-
Thursday, Nov. 23rd – CLOSED for Thanksgiving!
Friday Nov. 24th & Saturday Nov. 25th – SHOP SMALL! Small Business Saturday (and Friday, 'cause why not?!) is a day that we're all encouraged to shop at our local stores in order to support the local economy. We're so grateful for our local community and hope that you'll consider browsing our Antiques and wood products ALL YEAR in order to continually be improving our local culture.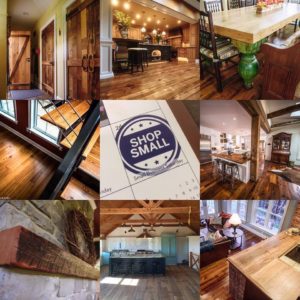 That's all for now! Thanks for stopping by. Please keep in touch by commenting, calling, emailing, or visiting our Showroom and Mill located in Lititz, PA. Cheers! 
Related Articles