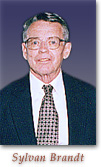 In 1960, Sylvan Brandt was a hard-working man at a nearby factory, but his $65/week job wasn't enough to provide for his family. One day, while he and a friend were reading the newspaper, they found a beautiful, old stone house and barn ready for demolition. Neither of them had any experience with salvaging, but they both saw an opportunity to make ends meet.
When they finished salvaging what they believed to be of value, they put an ad in the paper, and to their surprise, they sold the doors and the porch posts – pretty much everything they had collected.
Sylvan Brandt has continued to grow over the past 47 years. Today, we specialize in the business of salvaging the finest vintage lumber from local 17th and 18th Century barns and houses; milling the lumber into unique and characteristic floorboards. In addition to flooring, Sylvan Brandt also reclaims old doors, windows, hinges, and other hardware and architectural elements from these old buildings that would otherwise be destroyed.
Today, Sylvan's son Dean, along with his two daughters and son-in-law, runs the family business. He is proud to continue in the fine tradition his father began.
Whether you are looking to restore an old house, or you'd like something unique for your new build, please come visit us. We are happy to share our knowledge and experience with you. Located in Lititz, PA, our business includes a showroom, sawmill, and three warehouses to meet the demands for antique wood.